Name: Mr.Ming
Tel: +86-21-64967395
Fax: +86-21-61294304
Mobile: +86-13761982763
E-mail: sales@wdgardentools.com
Add: 3599 Yuanjiang Road, Minhang District, Shanghai China
Skype: wdgardentools


Key points for caring daily used garden tools
Key points for caring daily used garden tools



1.
Small garden tools( mini transplanter, rake, shovel, fork, square shovel, hoes and so on). They are small and light, easy to use and are widely used on shifting, earth, cultivation, weeding and so on. Such as transplanting flowers to pot and replacing planters or flowers. But pay attention on the connection between handle and tools body. It is easily broken when using them with great force. You also can the best quality garden tools from our garden tools manufacturers. Such as the whole forged casting model or stainless steel garden tools set.



2.
Shearing. Pruning shears are widely use on cutting branches and harvesting fruits cause of lightweight. Pruning shear is easily lost, the spring in the middle of two handles are easily loosed. You can use choose the pruners without spring. The material is 65# Mn carbon steel, it is much more shaper than 45# carbon steel.



3.
Flower pot. It is used for watering and fertilizer applied. The pot of metal material is much more durable than plastic flower pot. Certainly, plastic flower pot is cheaper than metal flower pot. So plastic pot is also welcomed. When using flowers pot, please take much more attention the spout. It is easily to loose and damaged part. After using the pot, please make a clean and then collect it,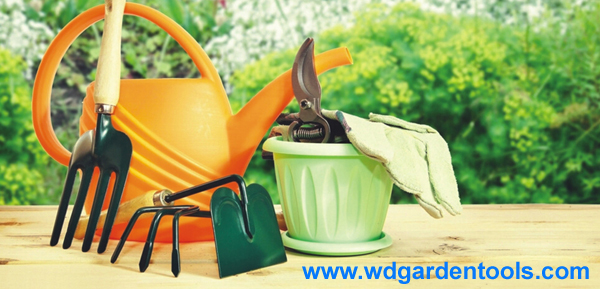 Gardening tools, mostly are made in metal material and they contact with water and soil when using. please remember to washing the dirt moistrue on the application,drying them before collecting them. If necessary, polish the blade.