Name: Mr.Ming
Tel: +86-21-64967395
Fax: +86-21-61294304
Mobile: +86-13761982763
E-mail: sales@wdgardentools.com
Add: 3599 Yuanjiang Road, Minhang District, Shanghai China
Skype: wdgardentools


    
Garden tools Package (I)


As one of ten years garden tools manufacturers. We have over 20 kinds of package for garden tools.
Today let us check how many package ways for single garden hand tools(Such as garden hand trowel, hand rake, garden cultivator, hand fork, garden transplanter, garden seeder, shear and so on).


â'  Cheaper and common one is 1pc/polybag. Mostly, put in one polybag and then are packed some pieces in inner box and then in carton box.


â'¡ Polybag with hanger hole. Not too many customers use this way, it is very good for tools without hole for stores and chain stores.


â'¢ Customized printed hanger card + polybag. Many customer choose this way, because hanger card can be with their own LOGO and then the hole in garden hand tools can be hanger on shelves in stores and supermarket.


â'£ Printed hanger card polybag. It is not used, only for some tools' handle without hole.


⑤ Display box. It is often used in kids gardening tools.


â'¥ Polybag + woven bag. It is often for long handle garden tools.


⑦ Blister card: Mostly for prunering shear.


⑧ Sliding card: it is also for pruner shear.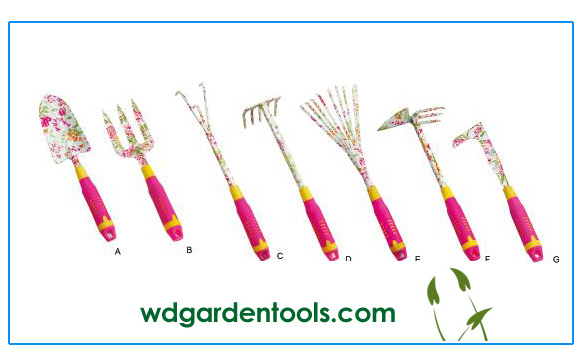 Above package is for single garden tool. Certainly, mostly of all garden tools can be printed with 1color or 3colors customer's logo. It is per customers' request.


Pay attention on this, polybag, color box, card are also can be printed with per customers' request. If quantity is too small, we didn't suggest you use customized printed package, as charge of printing package is more than tool's cost.


Hope all of information is helpful for you.