Name: Mr.Ming
Tel: +86-21-64967395
Fax: +86-21-61294304
Mobile: +86-13761982763
E-mail: sales@wdgardentools.com
Add: 3599 Yuanjiang Road, Minhang District, Shanghai China
Skype: wdgardentools


Today is Easter day of 2016. Easter day is a festival celebrating the resurrection of Jesus Christ from the dead. In many countries, from Saturday to next Monday is publish holidays for Easter Day. Many family will have a party with families.
Easter day is on the behalf of the coming spring. Tree becomes green and flowers wears colorful dresses in Spring. Certainly, In Easter day never lacks Easter eggs.(Traditionally,use dyed and painted chicken eggs , or modernly chocolate eggs and plastic eggs substitute.)
Except beautiful and colorful Easter egg, more and more parents buy some other gifts for kids or toddles in Spring. Follows gifts are popular in recently years: rabbits, all kinds of kites. all kinds of seeds, kids garden tool sets, Most of kids like animals, specially on pets--- white rabbits. Various kites, as a adult, i also like it very much. Different flowers or vegetable's seeds suits for 7--9 years kids.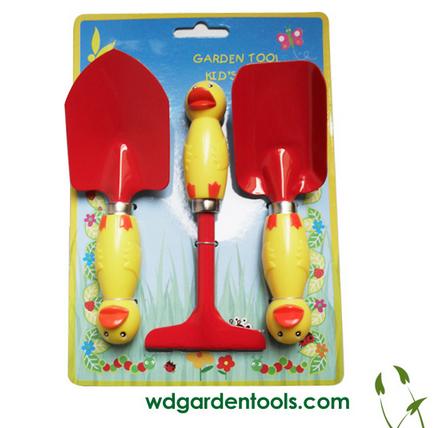 Kids gardening tool sets
are for 3 years---14years. If parents or grandparents like gardening in home. They also hope there kids gardening with them together. To feel the natural world and love them. Especial in the season of spring. Wear
kids gardening gloves
to use small colorful gardening rake loosen the soil and put one seed in soil and then grow to be one plants. It is very nice progress for children.
Kids garden tools set includes all kinds of tools, such as : rake, flat shovel, pointed shovel, tools bag, watering can, apron, gardening gloves,kneeler, gardening bag and so on.
Plastic, wooden handle with iron head are very common. Generally,In our
garden tools manufacturer
, 3pcs tools in one set are good selling. Many company use these as promotional gifts set for Childrens or toodles.