Name: Mr.Ming
Tel: +86-21-64967395
Fax: +86-21-61294304
Mobile: +86-13761982763
E-mail: sales@wdgardentools.com
Add: 3599 Yuanjiang Road, Minhang District, Shanghai China
Skype: wdgardentools


Development of garden tools in China



Development of garden hand tools in China
Before entering WTO, most manufacturers were selling their garden hand tools to local agriculture tools
'
stores or trading company. In 2000, China exported USD103,077,808.00 garden hand tools to world. But in 2002, the data is 135,685,545.00. It increased 31.60%. In the meaning, importing and exporting helps Chinese garden hand tools
'
development. Especially from 2000---2010, only exporting value increased 3.5 times(It is usd482,318,805.00 in 2010.)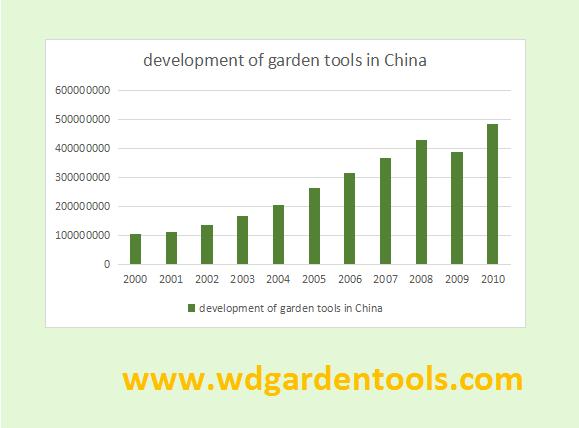 Not only the value of exporting increased, but also employees in garden hand tools industrial increased 4 times. As market demanded in this 10 years(2010-2011,many new garden tools manufactures were built.
Once quantity reached the market demanded, innovation would be required. So after 2010, many manufactures learned from our manufacturer to design and research new styles or products to attract customers. Especially on

garden tools set

, kids garden tool set and high quality pruner shears. These products are more beautiful and attractive.
In past two years, Chinese market is increasing dramatically. Many manufactures sell them online directly. Brand promotion and profit are very good.